Be Ready for our Estimator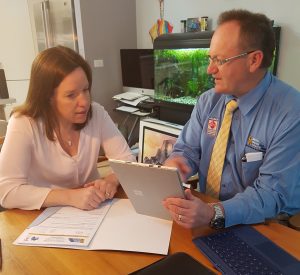 ---
7 Important Tips
Moving home can be an overwhelming time, so it's important that we know everything there is to know about your removal when we quote. This will enable us to provide you with an accurate quote and avoid any last minute surprises. Here are our top tips to be ready for our estimator visit.
When visiting your home:
Allow up to 60 minutes for the quote and longer for very large removals. We want to see everything that is to be moved and listen to your needs, take down notes, answer all your questions, provide advice and put together your customised quote.
Show our representative everything that is to be moved, including items in sheds, attics, garden pots and garden furniture. We will log these items into our device and create a moving list with total volume. This will enable an accurate quote taking into consideration the necessary resources and staffing. If you do not mention everything, we may arrive without sufficient resources and the cost of your move could be significantly increased should we need to provide you with extra labour or vehicles on the day.
Provide accurate information regarding your delivery address including details of access. Our trucks are of various sizes enabling access via tricky driveways and underground carparks using a combination of smaller trucks and/or ferry vehicles. We want to get the quote right, so please let us know of any narrow or battleaxe driveways, overhanging trees, low wires, parking or height restrictions, stairs, lifts or body corporate rules such as booking lift and nominated parking areas.
Do you own precious, large or awkward items? Please show our representative these items so that we can make any necessary arrangements to enable safe handling and transport, organise insurance and come well prepared on moving day. If special crating is required we can quote accordingly.
Do you want your removalist to dismantle and reassemble items? There are certain items such as beds that we generally dismantle on a regular basis, but we still need to know. We need to ensure that we allow sufficient resources on moving day and quote accordingly. Large items that arrived to your home flat packed and later assembled may not necessarily fit out the door, down the stairs or in the lift without first disassembling. When access is tricky we can organise a crane for those larger items and barges for moving across water.
Is there to be a property settlement? Timeframes are important when allocating and quoting resources. A removal appropriately resourced will ensure we have you out on time and in at the other end without delay.
Will you require a declutter service and/or storage? Your real estate agent may have suggested that you declutter your home for the benefits of presentation and the highest possible sale price. We can help you with our declutter service. You may need storage as your dates don't a line! We have cost effective and simple storage solutions using a modular system enabling us to load modules onsite and cost effectively deliver with your main move or at another suitable time.
Moving families is our passion and we realise that no move is the same, everyone's story is different. Use the quote time to ask our representative lots of questions. We have been in the removal and storage industry since 1968 and we are a wealth of knowledge.
Our Services include;